Windows is generally quite tolerant of badly behaved programs but sometimes a program (or especially a device driver) causes a problem so severe that Windows gives up entirely, and you're left with nothing but a Blue Screen of Death.  
Before Windows stops responding, it normally creates what's called a Minidump file.  Within this file are a lot of clues as to what caused the problem.  However, understanding the file is not easy.
And that's where a great freeware utility called Nirsoft Bluescreen View comes in.  It's a tiny download (123 KB), compatible with all versions of Windows from XP upwards, which automatically analyses all your minidump files to help you track down the cause of crashes.
For each crash on file, BlueScreenView displays the minidump filename, the date/time of the crash, the basic crash information displayed in the blue screen (Bug Check Code and 4 parameters), and the details of the driver or module that possibly caused the crash (filename, product name, file description, and file version). 
For each crash displayed in the upper pane, you can view the details of the device drivers loaded during the crash in the lower pane. BlueScreenView also mark the drivers that their addresses found in the crash stack, so you can easily locate the suspected drivers that possibly caused the crash.
If your system has been unstable recently and you're having problems finding out why, this excellent program should help.
Download BlueScreen view from http://www.nirsoft.net/utils/blue_screen_view.html.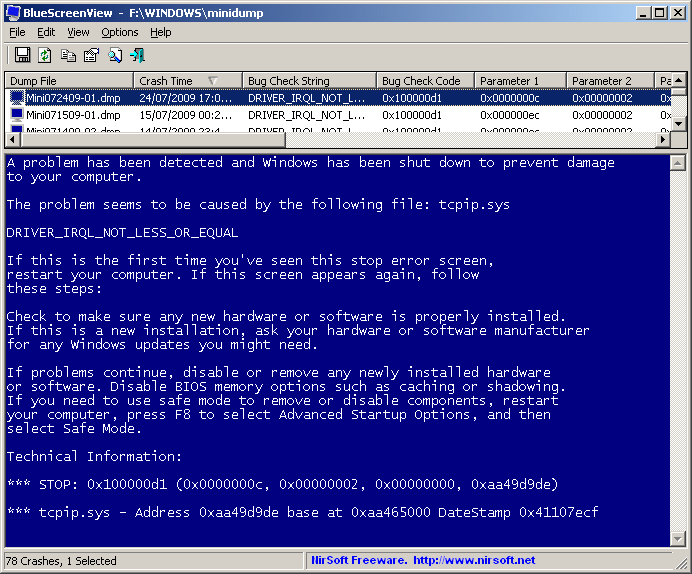 ---
My thanks to user Dave Burnett, who filled in the form at http://www.techsupportalert.com/content/submit-product-review.htm to tell me about this hot find.  If there's something you'd like to tell me about, why not do the same?  I'd love to hear from you.
---
Related Articles and Links
Please rate this article: